Latin Women's Initiative Annual Membership Drive.
20 Fashion (and Life) Lessons Mrs. Kahlo Left Us, presented by Special Guest Speaker Susana Martinez Vidal.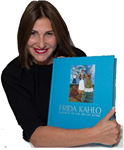 Author, Frida Kahlo: Fashion As The Art of Being
Thursday, September 28
4:30 pm – 7:00 pm
Museum of Fine Arts, Houston 1001 Bissonnet St.
Individual Ticket – $50
Admission to event and Paint the Revolution:
Mexican Modernism 1910 – 1950 exhibit included with membership dues.
Complimentary valet parking available at the porte cochere at the Beck Building on Bissonnet and Main (valet entrance on Main). Self parking available in the MFAH garage at 1144 Binz Street and is free after 4:30.
*** Please bring a gas or grocery gift card or pre-paid Metro Q card to be donated to Houston area Latino families impacted by Harvey or consider making an additional contribution at the door toward our Harvey relief efforts.
There are no upcoming dates for this event.