Latin Women's Initiative Annual Membership Drive.
20 Fashion (and Life) Lessons Mrs. Kahlo Left Us, presented by Special Guest Speaker Susana Martinez Vidal.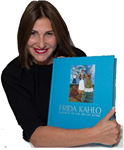 Author, Frida Kahlo: Fashion As The Art of Being
Thursday, September 28
4:30 pm – 7:00 pm
Museum of Fine Arts, Houston 1001 Bissonnet St.
Individual Membership – $50
Admission to event and Paint the Revolution:
Mexican Modernism 1910 – 1950 exhibit included with membership dues.
Parking available in the MFAH garages at 1144 Binz Street and 5101 Montrose Boulevard. Parking is free for MFAH visitors who enter after 4:30 p.m.
*** Please bring a gas or grocery gift card or pre-paid Metro Q card to be donated to Houston area Latino families impacted by Harvey or consider making an additional contribution at the door toward our Harvey relief efforts.
2017 - 2018 Membership Renewal and RSVP


September 28, 2017




4:30 pm - 7:00 pm
Location
Address:
1001 Bissonnet St
,
Houston
,
Texas
,
77005