By Shelby Hodge
It might have been the 14th annual Latin Women's Initiative fashion show and luncheon but Friday's fundraiser, with a sellout crowd of more than 700, enjoyed every ounce of fiery enthusiasm that has maintained it as the best luncheon of the year for more than decade.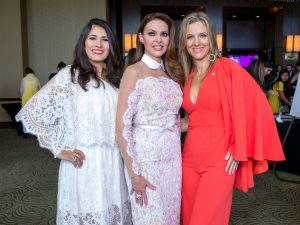 Marianelly Avendano Noble, Barbara Palacios, Sally Lechin 
Photo: Michelle Watson/Catchlight Group 
Of course, we measure "best" by the level of fervor and no other luncheon could top the energy that filled the Hilton Americas-Houston ballroom as well as the foyer where 30 carefully-curated vendors displayed their high-fashion wares.
As is the rule with this fundraiser, it is almost impossible to calm the gregarious crowd. But emcee Michael Cordúa and former Miss Universe Barbara Palacios finally managed, setting the stage for introduction of the charities that would divide the $250,000 raised.
Read more and view more photos here.